Shogun Bistro in Bowling Green, KY has great success with their customer retention software in September!
Shogun Bistro signed up the first subscriber to their TL Connects Customer Retention Software program on 10/1/2012.  They now have broken the 10,000 subscriber level so we wanted to congratulate them on reaching that mark.
Shogun Bistro is a hibachi/sushi restaurant located in Bowling Green, KY.  They are a local favorite, combined with a new fine dining Bistro restaurant with unique and diverse menu items, and an incredible sushi bar!  Their success with customer retention software is partly due to their active use of the product.  Just last month they sent 24,875 textALERTS out to their best customers driving them back for a discount if they return within 7 days of the text message.  That one-time textALERT brought in 143 people for an estimated $2,574 in extra revenue in September.
Their retention program automatically sends a trigger-based text message out to their subscribers after 30 days without a check-in.  They saw wonderful results with this in September.  The customer retention software sent out text messages to 1,502  people.  10.1% of those customers returned to redeem the reward.  That's 152 of their most loyal customers coming back to the restaurant within a month to take advantage of the offer.  Fantastic job!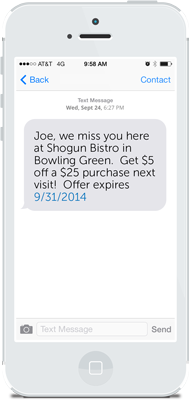 They also managed to sign-up 314 new subscribers during the month bringing their total to just over 10,000!
Shogun uses TL Connects' customer retention software to the fullest and gets real results from it.  They also have 2 other locations that currently use the loyalty program as well. Thanks to Shogun for being a great partner with us!
If you have a business and would like to see it achieve a similar level of success, do not hesitate to schedule a demo today and see how TL Connects can work for you!