How to Create a Better Digital Marketing Strategy
If you are like most small business owners, you may dread thinking about your digital marketing strategy. Time, for business owners, can be extremely hard to find. Most of them have a hard enough time thinking about how to run and maintain their businesses. If extra time is something you would like, there are two things that should not be missing from your digital marketing strategy: 
mobile marketing
& marketing automation. These two things are often overlooked due to being newer technologies and marketing methods. Don't waste your precious time marketing the old-fashioned way. Mobile marketing has proven to get much higher open rates than any other method of customer engagement. When you automate this effective method of communication with your subscribers, you will be rewarded with extra time.
Mobile Marketing
First, let's discuss mobile marketing. In case you are not familiar with the term, it is simply marketing to people by communicating directly to them using mobile devices. It includes SMS (Short Message Service, or
text message marketing
),
MMS Marketing
(Multi-Media Service, or a picture text message) and mobile apps. Mobile apps, however, require users to download and install the app, making them more difficult for the customer, especially in the beginning. Text messages, both SMS and MMS only require a phone number and a double-opt-in process. Text messages also have a 98% open rate and 90% of those are opened within 90 seconds, making it the most powerful method of direct marketing. Mobile marketing unlocks powerful opportunities to speak directly to customers in a way never before seen. With mobile marketing, merchants can fully engage their subscribers with offers, announcements or just to keep top of mind. People love their phones and texting. Savvy marketers are using this to promote their businesses in new and creative ways. It simply
must
be included in your digital marketing strategy.
91% of all U.S. citizens have their mobile device within reach 24/7.
67% of cell owners find themselves checking their phone for messages, alerts, or calls — even when they don't notice their phone ringing or vibrating.
It takes 90 minutes for the average person to respond to an email. It takes 90 seconds for the average person to respond to a text message.
44% of cell phone owners have slept with their phone next to their bed because they wanted to make sure they did not miss any calls, text messages, or other updates during the night.
Read more SMS Marketing facts.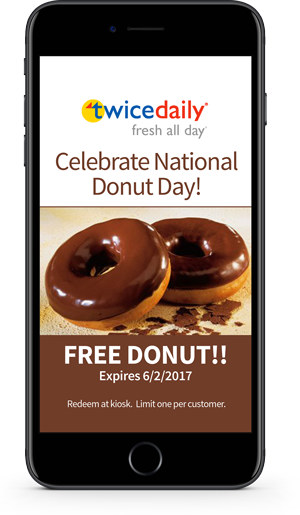 If you use email to communicate with customers, be sure to design responsive emails. A higher percentage of people use mobile now than those on desktops or laptops. If your email isn't designed to be displayed well on all various devices, the message may not be read or seen.
Automation
Some experts say a business owner should spend 10%-20% of your time marketing. That number could be reduced significantly with marketing automation. Marketing is repetitive and most small business owners are experts in what they do, not in marketing. This is why
automated marketing
is so important today. You can set up
marketing automation tools
that will send texts to customers in set periods of time for all sorts of reasons. For example, if a customer is absent for 30 days, an automated message would be sent to them. You could also set up automated birthday specials, anniversary offers, polls, contests. Special consideration of time can be taken to keep your business top-of-mind to your customers. Automated marketing can do much to keep your business running well. You don't have to worry about sending every communication out every time. However, routine analysis of your messages & offers should be performed. You may find one type of message works much better or one offer has a much higher redemption rate than another. Here are some real-life examples of automated
customer retention
. These companies have seen the value of setting an automated marketing message to bring in repeat business.
A deli in Bowling Green, KY gets a 10.5% redemption rate on a 20% off offer to customers who are absent for 30 days over the last 12 months.
A national pancake chain runs 3 auto-responders that send a text message when a customer has been absent certain amounts of time. At 20 days they get 7.2% returned, At 40 days, 6.7% and at 60 days, 2.2%.
Common Mistakes to Avoid
So, are you ready to add mobile marketing to your digital marketing strategy? Great! Here are a few common pitfalls to steer clear of when setting up your campaign.
Underestimating the power of the offer  A great offer is so important to any campaign. By the term "great", I don't mean to imply it has to be some expensive item to bring people in. It just has to have great value. Give something your customers want and something that doesn't hurt your business to give. For instance, a BOGO offer at least means you will make an actual sale for each redeemed offer. The same goes for a percentage off, etc. Some businesses, such as convenience stores, are able to give away vendor-supplied items at relatively no cost to them. The vendor typically is more than willing to get free advertising for their new product while also getting crowds of people to try their product.
Too much communication  Although customer engagement is ultra important and you want to be consistent, it is very important that you don't over-communicate with your subscribers. You will turn subscribers off and force them to unsubscribe if you hit them every day with a text message. You must also remember that your text messages weigh against their mobile rates and data plans. So, be consistent, not constant! We recommend 2 to four texts a month to your subscribers.
Not enough communication  It can be hard to come up with new offers, specials & quality content to send to your loyal subscribers, but it is so important to keep doing it regularly. It is perfectly fine to repeat an offer, especially if it was successful! Often, you don't even need an offer, just send out an announcement or thank you. If you need help with ideas, download our FREE Marketing Calendar Template. The calendar contains every major national holiday and a ton of fun, quirky holidays that may help out as well.
Not analyzing results  It is so vital to analyze & review your digital marketing strategy as it unfolds. It is not necessary to do deep dives, taking hours of work. But you should at least review and compare the offers, texts, tweets and posts to see which worked out better. You have to know what is working or not working in order to keep it going or change up to what will work better for your business.
Poor communication with employees  Perhaps the worst thing you can do when implementing your digital marketing strategy is to under-communicate with your employees. Your business loses credibility if a subscriber gets a great offer and then rushes into your store only to have the cashier act clueless and have to get help or even worse, tell the subscriber that the offer is not valid. Be sure to inform and train your employees on which offers are running on which days. Tell them if you have included a bar code in the MMS message for them to scan. Train them on how to use the customer engagement platform so if a subscriber is redeeming the reward for the first time, they may be of assistance to them if needed. Information is power and makes sure your employees are prepped and ready to make your digital marketing strategy as powerful as possible.