Is sending picture messages to customers effective?
To answer in short, yes, sending picture messages to a
local customer database
of subscribers is extremely effective.
Text marketing
alone has proven to be the most effective form of communication in today's high-tech world. Sending picture messages along with regular text messages improves the overall communication by showing your product, brand and/or message in a powerful way. The subscribers will read the message quickly, under three minutes, but they will see that image first. Also, since not too many businesses are able to communicate this way yet, it is new and special to the subscriber. It is best to keep customers surprised and delighted and sending picture messages to them is an excellent component of a
customer engagement strategy
to do just that.
Smoothie King franchises are now sending picture messages in several ways.
There are many reasons for Smoothie King's success, first of all, because they have a great product with great service. They also have an outstanding marketing message and they stay on point, communicating and engaging their customers constantly. Their business model requires quite of bit of repeat business.  This is not a high-end restaurant that people may just visit twice a year. Smoothie King's customers may grab a healthy smoothie once or even twice a day!  As a large chain with many locations, Smoothie King needs to be able to engage customers both at a
local store marketing
level and at a national marketing level.  Using their
customer retention software
for sending pictures messages to subscribers is now a major part of many franchisees'
mobile marketing
efforts.
How do images help enhance customer engagement?
It doesn't take a huge design team or marketing department to put together a great mobile marketing campaign. Messages should be short, concise and to the point.
MMS marketing
is perfect for companies like Smoothie King because they have such a high read rate,
(98%)
. Combining that with an image that shows a product or offer creates even more interest and higher read rates. Smoothie King franchisees use all sorts of different images to get their message communicated. They use pictures of smoothies, logos, people with smoothies and they even type over images to double up their offer or message. Here are a few examples:
For example, one of the textALERT campaigns read "Smoothie King Alert: Jane, $2 Off any Medium or Large Smoothie. Redeem at kiosk. Exp 08-10-2016 @ 9:00 PM" A newer Smoothie King franchisee sent this to subscribers pretty early in the text marketing process. They saw 8.87% of subscribers visit to get this $2 off deal. This is a nice image of a person holding a smoothie with text over the top.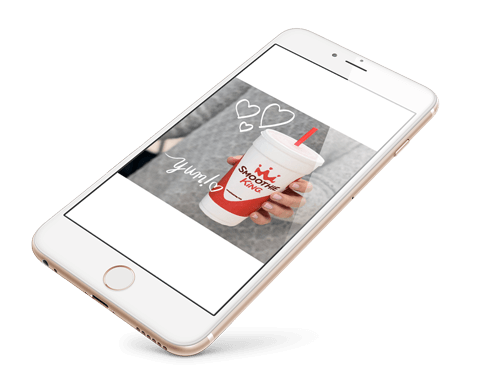 ---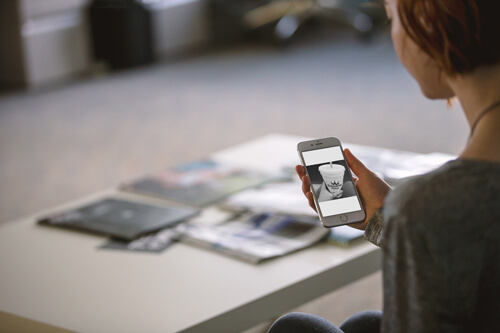 Another example is "Smoothie King Alert: $1.99 Small Smoothie. Must show barcode at register. 1 per cell/person Redeem at kiosk. Exp 09-22-2016 @ 7:00 PM". They simply included a black and white image of someone holding a smoothie. It is a very simple image that displays the brand image and entices subscribers. This message had a redemption rate of 5.91%
---
A third example is "Smoothie King Alert: John, Stop in today for a $4.99 Medium Smoothie Redeem at kiosk. Exp 10-19-2016. This time they attached a $5 bill with featuring the Smoothie King logo. Again, nothing fancy, just interesting enough to get people curious and of course, it stays on brand. This textALERT campaign had 4.98% of subscribers come in to get a $5 smoothie.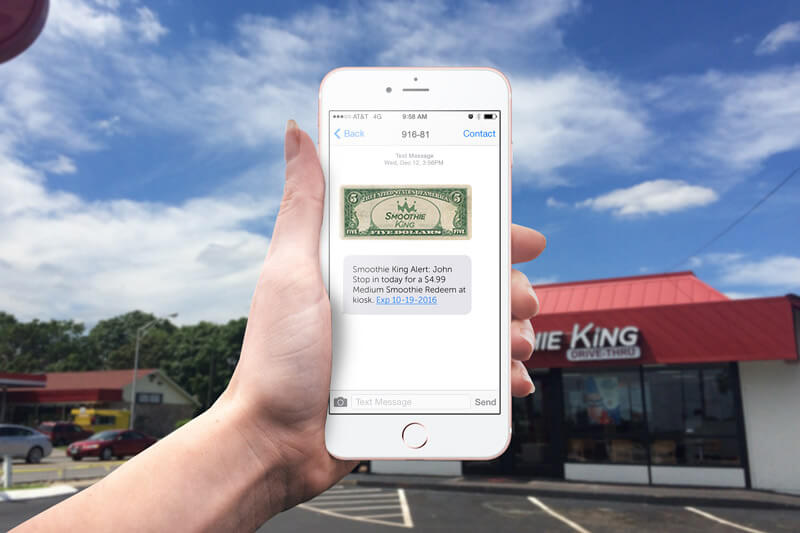 Smoothie King
is a smoothie food retailer that caters to blended fruit-based drinks. They first opened in 1973 as a stand-alone vitamin shop in Kenner, Louisiana. They now have over
800 locations on three continents
.  Smoothie King has been named #1 franchise in their category by
Entrepreneur Magazine
, 20 times. Needless to say, Smoothie King has been successful for a long time now and they are still growing with new stores opening often.
For more information on text marketing, read our
Text Marketing Best Practices
.

Download a template to get your MMS image the correct size every time.
Use a template to get started on the right path with MMS Messaging! Here you can download either a specifications document to use to size-up your image before uploading it or a layered Photoshop document to use for easy Photoshop MMS image creation. These two files will help you create a better MMS image. It is important to not cut critical sections of your image off either in the preview or when the user opens it.
This template helps with:
Proportions for all the varying phone sizes
Margins to avoid hidden content
File size for faster delivery
Consistency of brand message
Specs (.jpg)
Layered Template (.psd)