How to Sell more Smoothie King Gift Cards?
Smoothie King gift cards are great to give and even better to receive! Americans love to receive gift cards as presents and it is a great additional revenue stream for your business.
Here are three great reasons why you should focus on selling more gift cards.
According to an NRF study, Americans will spend $47.87 per card and the average person buying gift cards will spend $172.74, up from $163.16 last year.
The total value on many gift cards will not be fully redeemed and many will not be redeemed at all.
Smoothie King Gift cards can drive increased sales and increased visits.  The average gift card recipient spends an additional 20% than the total value of the gift card and 55% of recipients take multiple visits to spend the balance of their card. (* Stats complied from Gift Card Granny)
Recently, our Customer Engagement Platform has helped Smoothie King partner franchise owners drive $1,000s in gift card sales.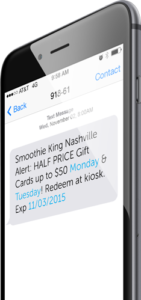 Here are some example text campaigns….
Smoothie King Alert: HALF PRICE Smoothie King Gift Cards up to $50 Monday & Tuesday! Redeem at kiosk. 284 redemptions
Smoothie King Alert: 25% off Gift Cards up to $50 Monday & Tuesday! Redeem at kiosk. 106 redemptions
Smoothie King Alert: Small Business Saturday! Any gift card up to $50 for 1/2 price at participating stores! Redeem at kiosk. 73 redemptions
TL Connects has been helping Smoothie King locations with their local store marketing using our integrated kiosk solution and all-in-one communication and text marketing platform for over 2 years.  In June of 2016, Smoothie King corporate awarded us a contract as the preferred franchisee SMS vendor.  In less than 60 days, we've signed up over 100 locations.  If you have an interest in learning more about how our platform can help your store, please CLICK HERE to reserve a time with one of our reps to see a brief demo or visit the Smoothie King Text Program page for more information.
You can also call me or CLICK HERE to reserve 15 minutes on our schedule for a quick phone call with one of our reps.