Text Marketing for Restaurants & Food Service Providers
Creating a successful business in the restaurant industry can be difficult. During and after Covid19, it can be downright impossible for many restaurant owners.  Any advantage an owner can use to get more business right now is especially important. Text marketing for restaurants and foodservice providers could be a game changer for many businesses looking to gain more revenue.
Having a mobile text club is a great way to communicate your brand and products with the people who want it most, your customers. These people love your business and your food, so it just makes sense that they would want to be the first to know about your special deals, events, and announcements. During these fluid times, it is especially important to communicate such things as new hours, deals, curbside and delivery specials, and so on.
How to Build a Database
There are various ways to build your text club database.  I recommend giving your customer an offer for signing up for your text club.  Your customer's text feed is a very personal and intimate space that is filled with messages from friends and family.  This is the reason 90% of texts are opened within 5 minutes.  So it's smart to incentivize them to sign-up.  Once they signed up, it's important to add value when communicating via text message.
The most common way is by promoting an opt-in keyword in your store, on social media, or in an advertisement campaign.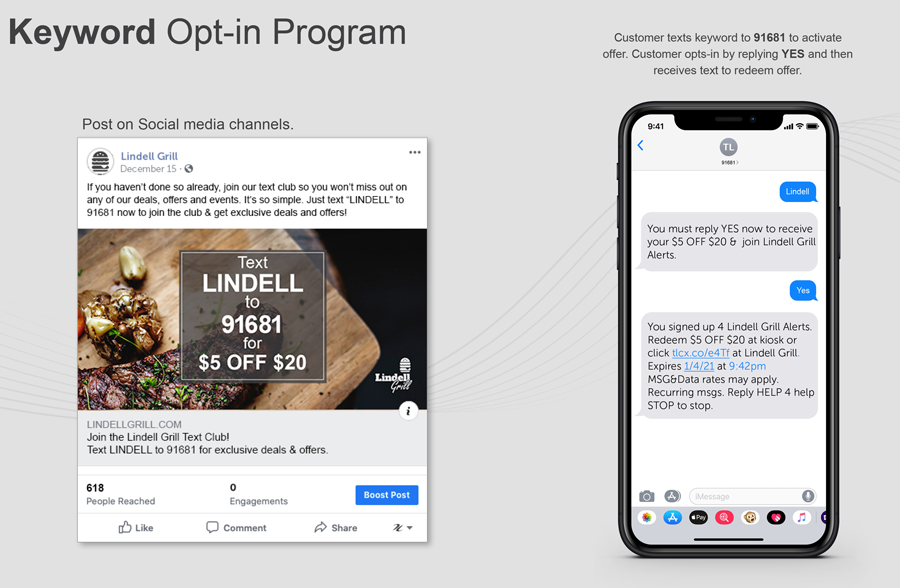 You can also build your text club by using a QR Code to direct your customers to a custom landing page where the customer will just enter their cell phone number.
Another very frictionless way to build your database is with a kiosk that would be at a hostess stand or front counter.  These programs can be included with or without loyalty.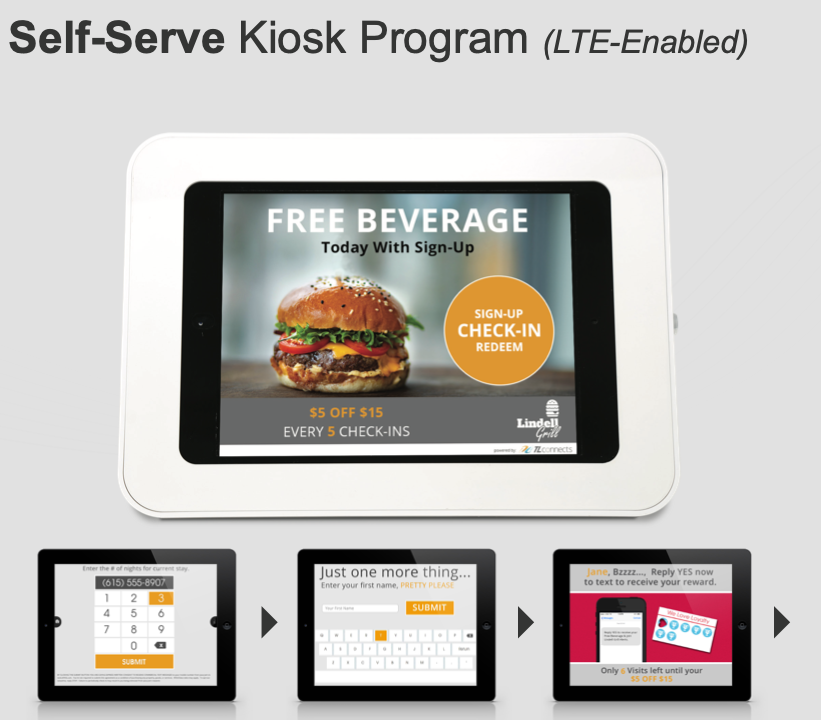 Restaurant Example:
Paul owns a local gourmet burger restaurant. He has been in the city for almost a decade, loves his restaurant, his employees and his customers. He does pretty well overall with his business, but it has been a little slow as of lately. He has had to let his servers off a little earlier at night and he had to let one day shift employee go.
He wants more business. He wants to thrive, not just survive.  What is Paul to do? He is active on Instagram and Facebook. He has spent marketing money on radio spots, coupon magazines, and other print advertising, but has not seen great results from any of them.
Paul wanted to try some newer methods of marketing. He noticed how every customer in his restaurant is always on their phones. Well, not just his customers and not just at his restaurant. His kids, family, friends, and everyone else he sees are always looking at their phones. He started researching how business owners could reach customers on their phones. Soon, he found TL Connects and they not only had a free keyword marketing program, but they also had a QR Code Program, which would come in real handy right now during the Covid19 era. All for free!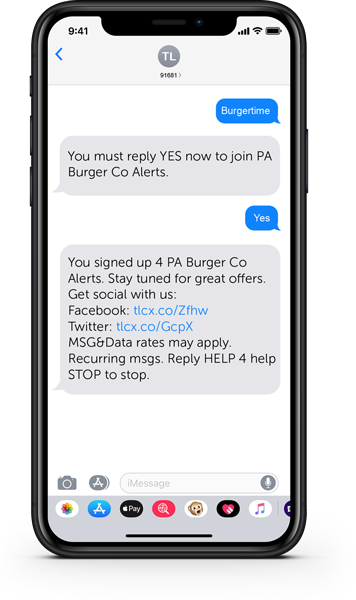 He sets up a free account, reserving the unique keyword "BURGERTIME". He then starts promoting that keyword. He showcases it on flyers and posters in the restaurant and posts it on social media. He also creates a QR code and gets 16 free stickers included with the free account to put on every table. Now his guests can simply point their phone's cameras at the sticker and enter their cell phone number to join the text club.
His list grows quickly and he sees his numbers go up by around 150 each week. Now, his typically slowest day of the week, Tuesday, is not so slow as he sends out a text the day before promoting a great new deal only available tomorrow.
Why SMS?
Text messages have an open rate of 98%. (98% of people receiving a text message open it and 90% of them open it within 5 minutes of getting it.)
Text messages have a 5 times higher open rate than email.
The average click-through rate of text message links is 30%. No better way to advertise a webpage or link.