Text Messaging to Customers: A Clothing Boutique's Testimonial
It is always awesome to hear your customers bragging on your products or services. It absolutely never gets old. But it is extremely great to read an article that a new client has written singing your praises in a publication!  One of our new clients has recently written some nice words about our text messaging and loyalty program software, so I wanted to share it.
Penny Bolton runs a great clothing boutique in Murfreesboro, TN called Penny's Closet.  Penny is very clever and always looking for better ways to serve and communicate with her customers. She teamed up with TL Connects because she wanted more than just a loyalty program. She wanted to both engage and reward her customers. She also finds it important to give her best customers a first chance at getting these great deals. TL Connects' text messaging platform makes this really easy for her.
Penny regularly contributes to a fashion publication called TJ Reid's Fashion Advantage. In it, she has her own column called "Penny's Picks". This magazine is America's ONLY magazine for the small specialty store retailer. TJ Reid is one of America's most popular speakers on the topics of retail business, promotions, advertising, and customer service. So, needless to say, it is a good thing when an industry expert writes a glowing article in a reputable magazine. Thanks, Penny, we love having you as a client and wish you much, further success!
At the time of this post, Penny's Closet has signed-up 88 subscribers, in under 2 weeks. Nice going! She is currently offering a FREE Niki Biki Tank Top to her loyal subscribers every 5 Check-Ins. In less than two weeks she has some customers getting close to their reward!
"I was intrigued enough to try it in my own store and was astounded by the number of subscribers that readily signed up without my staff having to even encourage them."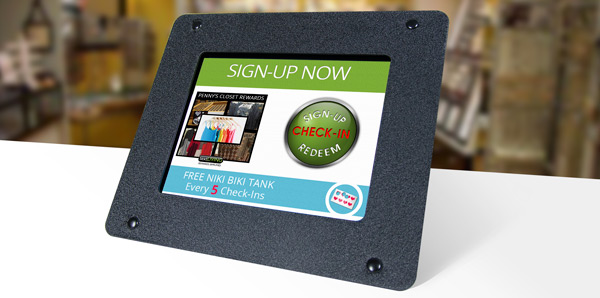 Here is a copy of the article she wrote for Fashion Advantage:
A New Take on Texting
"Do you hear that?" I am asked this question by Mark Cornelius*. He is alluding to the buzzing of my cell phone alerting me to a text message.
"98%" of text messages received are opened as opposed to about 12-20% of emails. But even with that great a response rate, it's challenging to get customers to offer their personal information in trade for special offers."
Enter TL Connects, the company Cornelius works for. In 2012 this innovative group created a communications platform enabling merchants to drive substantial revenue to their bottom line. The service is extremely simple to use and easy to track.
"Don't think of this as just a Loyalty Program," advises Cornelius. It is far more than that, enabling merchants to increase customer frequency and customer retention while also engaging the customer in many new ways."
Cornelius goes on to explain to me that most Loyalty Programs are one dimensional, only trying to get their already loyal customers to remain so. He showed me statistics for TL Connects indicating an ability to significantly retain new customers who had only visited merchants one time.
TL Connects also goes above and beyond by offering an easy to use TextALERT service allowing merchants to instantly attract customers back for special offers, even on the same day they alert their subscribers.
I was intrigued enough to try it in my own store and was astounded by the number of subscribers that readily signed up without my staff having to even encourage them. "The retention offer—reminding your customers that you miss them—is the icing on the cake," Cornelius adds. It has proven to more than pay for the service and personalizes the patron relationship in an amazing way.
TL Connects works with many franchises, corporate and small business entities across the country. They also have an international presence. For more information, visit www.tlconnects.com and then contact Mark Cornelius at 615-948-8214 to experience a demonstration of this powerful tool.
PS. Mention this article for a special offer of your own at Penny's Closet in Murfreesboro, TN!
Penny Bolton
* Mark Cornelius is a Customer Engagement Specialist at TL Connects