Text Campaigns Have New Activity Filters
We have some good news!
We have just added some new activity filters to give merchants more choices when targeting which subscribers will receive text campaigns using SMS Marketing or MMS Marketing. Merchants now have the option to send to subscribers who have joined this year, joined last year or joined in the last 12 months.
The reason for adding these text campaign filters is to give merchants who do not utilize the Digital Loyalty program more options to segment their subscriber list. Merchants who use the Digital Loyalty program have many filters based on activity due to much more customer data based on check-in activity such as visited this month, visited last month, Top 10 (All-Time), No Activity in 30 Days, etc.
Before now, merchants not using the Loyalty Program didn't have any real options in this area.
Now, merchants can send a text campaign directly to only those customers who signed up to receive texts from them last year, this year or in the last 12 months.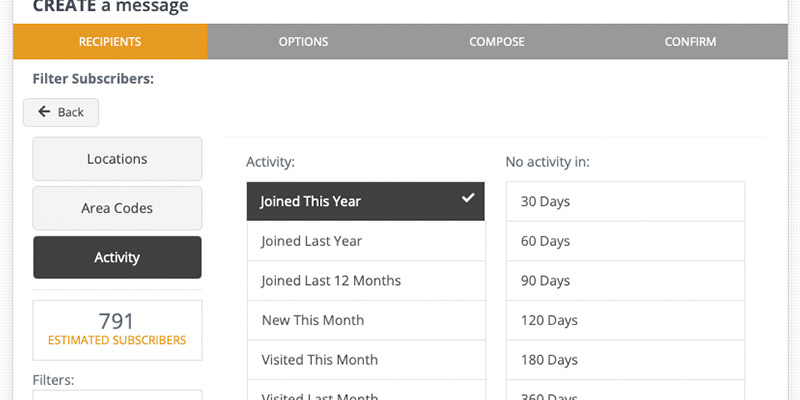 We hope merchants will use and benefit from these new filters and we will continue to add new filters and features to help merchants better engage with their subscribers.
Here's how to use them in your next text campaign.
Go to the textALERT wizard.
Click "Create New Text"
Click the "Filter Subscribers" option.
Click the "Activity" button to show the activity options.
Click the desired filter and continue creating the text campaign.