Loyalty program ROI. How should it be figured?
One of the most important questions you can ask yourself when considering adding a loyalty program is: what will I get out of it? Measuring the ROI of a customer loyalty program can sometimes be a difficult thing to determine. It's important to think about the whole program and all the benefits your business will receive from using it. I recently read a great article,
What Chipotle gets wrong about Customer Loyalty
, discussing how the CEO of Chipotle downplays the effectiveness of loyalty programs. It focuses on how Chipotle thinks a loyalty program only rewards the most loyal customers and does not make absentee customers visit more often.
"We don't believe the general supposition that loyalty will make less-frequent customers more frequent." In the past, he said, the thinking was that 'if you can take an infrequent or lapsed customer and make them come to your restaurant just one more time, you would pay for the program." Chipotle's research, however, found that "there are virtually no loyalty programs that actually achieve that,' he said. 'What they do is reward your most loyal customers."
I wanted to expand on the notion that this viewpoint on loyalty programs is too narrow. All loyalty programs are not created equal, but for the most part, they really can offer a lot to a business. There are other business owners who also believe a loyalty program only rewards loyal customers. They may also believe the programs do not actually drive new business or retain loyal customers. But, they are looking at loyalty programs all wrong, at least some of them. They are taking the costs of redemptions for
all
their guests from the revenue generated from increased visits to get their ROI. This produces a negative ROI. I would agree that sometimes out-dated punch card programs may fall into this category. However, a solid digital "
customer engagement
" program does much more than just reward loyal customers. Business owners who think this way are missing the valid benefits of the loyalty program.
Benefits of a loyalty program:
All guests, including the loyal guests, will be more engaged and visit more frequently when mobile phone programs are fully utilized. Guests always have their cell phones in hand and much of the time they are looking directly at it.  Mobile phone messaging to guests is far superior to email, punchcards & apps because everyone already has the capability.  There are no apps to download, no emails to open and no card to keep up with. The guests need only their phone with them, which in most cases now, you have to pry a guest's phone away from them. So the customer will get the message and more than likely read it within seconds.
"It takes 90 minutes for the average person to respond to an email. It takes 90 seconds for the average person to respond to a text message."
2. Loyal Guests
Loyal guests are much more valuable than new customers because they visit more often. They also talk about your business to their friends and family.  They refer your business via social media, actively promoting your business. They will check-in on Facebook, take a food picture and share it on Instagram or tweet a great deal they just got at their local favorite convenience store. You literally can not buy free advertising like that.  New guests are great, but they are hit or miss. They may return or they may not. However, a loyal customer, by definition, will be returning over and over again.
"Keeping one more loyal customer is the equivalent of gaining 95 new customers!"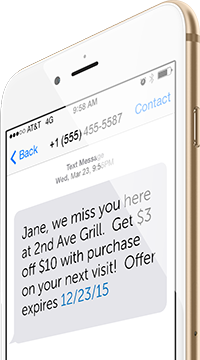 With business owners being so busy,  an often overlooked benefit of a loyalty program is time. Time is money and although it is hard to monetize on paper, time is actually worth quite a bit of money. How do you put a value of an auto-responder that texts their guests automatically after 30 days of absence with a great offer to bring them back within 7 days? With this, the owner can watch his guests come back and redeem this offer, knowing he/she might have lost that customer otherwise. You could spend large amounts of time and money marketing to new customers or set up some auto-responders to do the work for you. These auto-responders take less than two minutes to set up. They give a business owner the ability to set up several different responders in which, they can automatically send texts to brand new subscribers, 20 minutes after they sign-in the first time. Then, again in 30 days with no sign-up with a reminder to come back. Even again, in 45 days with a better offer, on the subscriber's birthdays, anniversaries and so on. The possibilities are really endless.
4. Customer Data
Getting the right kind of data in which to build a customer profile is also a valuable thing. I don't mean payment data that shows how much you spend and what you bought. That can be powerful also. But what I mean is insights and data about what your customers prefer, what time they come in and what kinds of deals/offers they like most. Again, as important as this is, it may be difficult to put a hard monetary value to it that is clearly seen in an ROI.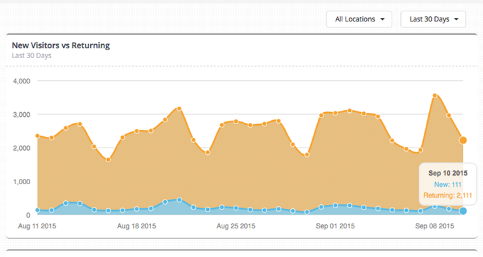 5. BounceBack Offers
Sometimes businesses think one visit a day or week just is not enough.  Imagine that!  BounceBack offers can be used to bring a customer back the next day, a week or even the same day.  There are no text messages here, just a message on the kiosk at the time of check-in telling the subscriber that if they come back within that period of time, an additional reward will be given to them. Again, traditional punch card programs simply can not offer such features as these. So, make sure if you are looking to start a loyalty program, you go with a digital platform that can offer these kinds of features.
Costs of a loyalty program:
There are really four main costs associated with creating a digital loyalty program: Software, design, marketing, and rewards.
Software is used to create and to manage your loyalty program. It can be designed in-house or purchased through a subscription or partnership with a loyalty/engagement provider. In most cases, a kiosk is provided to place in-store for users to sign-up, check-in, etc.
Texting charges are applied to mass text messages sent to subscribers. These charges are paid per text sent to the software provider.
Marketing your loyalty program is very important. You need to make sure you get the word out about your program, broadcasting it in all major communications and social media outlets. Also, find a way to ensure your employees mention it regularly. This part doesn't have to cost much at all.
Reward prices may vary greatly depending on the type of business and the margins associated with the product.  Many restaurants offer a free beverage or $5 off $25, etc.  Your average ticket price is also an important factor in determining a good reward. It is also a great practice to use promotional items or high-stock items for a reward to keep inventory levels low or really push what you want to sell.  Most of all though, you want to offer a reward that the guest will desire in order to get them to sign-up. Read about how one of these customer loyalty programs pick the best rewards for their type of business, a convenience store in this case.
If you think about all the benefits provided by a good, digital loyalty program, the ROI formula should look more like this:
ROI =
(Revenue from increased visits from loyal guests)
+
(Revenue from mobile alert messages & bounce back redemptions)
+
(Revenue from automated retention)
+
(WOM referrals, reviews, social, etc.)
+
(revenue from insight-based campaigns)
–
(Cost of rewards redemptions and program)
= Large Positive ROI