4 Reasons Gift Cards may be the best holiday offer for Small Businesses this year
Gift Cards are the "Go-To" gift this year!
Recently, on Small Business Saturday we helped one of our small businesses, Smoothie King Nashville, drive $3250 in sales. It was a one-day text message campaign selling discounted gift cards. The success of this offer made us want to ask our other business partners "What are you doing to sell more gift cards this holiday season?" Learn more about why gift cards are the number one gift eight years running and why you should be taking advantage of these sales this year.
Americans love gifts cards. We love to give them and receive them. Gift cards
have
been the most requested gift item eight years in a row. They were once thought impersonal or easy for gift buyers. Now, however, they have become practical and coveted by millions of shoppers. You may associate the sales of gift cards more with large, corporate chains, but small and mid-sized businesses should understand the business value that gift cards can and will deliver to their bottom line as well.
Here are 4 reasons why gift cards may be the best holiday product small businesses can offer this year:
1. Gifts cards are more popular than ever before
According to a recent survey by
NRF
, the average person buying gift cards will spend $172.74, up from $163.16 last year. Total spending is expected to reach $31.74 billion. The survey also finds that Americans will spend $47.87 per card and total spending on gift cards is up 83% since 2003. The survey also finds department stores, restaurants and coffee shops are among the most popular card choice for gift-givers. 34% will give family and friends the gift of a meal at their favorite restaurant while one in five (20.6%) will give gift cards to coffee shops.
See below
.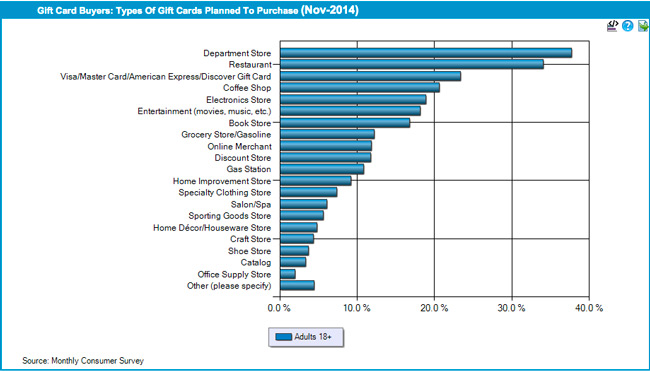 2. Some gift cards will likely not be redeemed
Businesses do not necessarily want or wish for this to happen. It is just a fact that many customers do not use their gift cards for whatever reason.
• More than $41 billion in gift cards went unused between 2005 and 2011; an average of $1 billion goes unredeemed annually *
• American households have an average of $300 in unused gift cards *
• 40 percent of gift card recipients never use the total value of the card *
3. Customers will spend more than the card's amount
Businesses earn more when consumers spend more than the gift card amount and make repeat visits. *
• 61 percent of gift card holders spend more than the amount of their gift card, with 75 percent of those individuals spending more than 60 percent over original card value *
• The average gift card user ends up spending an extra 20 percent beyond the value of the card *
• 55 percent of gift card recipients require more than one shopping trip to spend the balance of their card. *
Gifts cards are much more than an easy, quick gift. They can drive key revenue to your business, especially during the holidays. You can even discount the gift cards and give your customers an excellent reason to buy the card as Nashville's Smoothie King recently did.
4. It works. Just ask Smoothie King.
A Case study – Smoothie King's discounted gift card campaign
Smoothie King in Nashville, TN launched an extremely successful mobile marketing campaign on Small Business Saturday. They used their digital loyalty program, provided by
TL Connects,
to send textALERTS to their loyal subscribers. The text message read
"Small Business Saturday! Any gift card up to $50 for 1/2 price at participating Nashville stores! Redeem at iPad. Exp 11/29/2014".
Some might say "this is risky" to offer gift cards at half price. However, the results were incredible. They sold 135 gift cards totaling $3525 in sales. IN ONE DAY. The textALERT going to their loyal customers saw instant success. Considering 40 percent, on average, will not spend the entire card amount while the rest will likely spend more than the card amount, I would say that is a brilliant offer on their part. Also, this will earn them more traffic because you can't typically spend the whole card amount in one visit.
"Small Business Saturday! Any gift card up to $50 for 1/2 price at participating Nashville stores! Redeem at iPad. Exp 11/29/2014"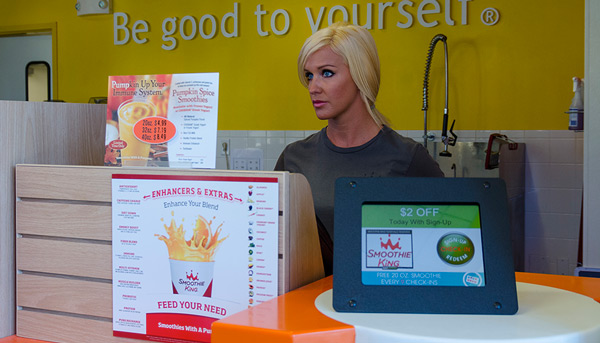 * Stats compiled by Gift Card Granny