Smoothie King Corporate picks TL Connects as the preferred SMS Vendor for Franchisees
TL Connects has been helping
Smoothie King
locations with their local store marketing using our integrated kiosk solution and all-in-one communication and text marketing platform since the summer of 2014.  In June of 2016, Smoothie King corporate awarded us a contract as the preferred franchisee SMS vendor.  In less than 60 days from launch, we've helped over 100 Smoothie King stores start building large
local customer databases
. In most cases, Smoothie King franchises will sign-up between 1,500-2,000 customers per location per year in which they can communicate via SMS and MMS.
You may be thinking, "How do you get such high adoption rates?"
We do things a lot differently than your traditional text marketing company.  Almost 100% of
text marketing
platforms have your customers texting a keyword to a short-code to sign-up. (Example: Text KING to 91681).  Unfortunately, consumers have not adopted this approach to signing-up.
OUR APPROACH:
We provide you with an in-store sign-up kiosk and it only takes your customers 20 seconds or less to sign-up.  To increase the adoption rates, we have a moving offer "$2 off Med or LG Smoothie" to grab your customer's attention.  Once your customer is ready to sign-up, all we ask for is their cell phone number and first name.  Then you can start communicating with them via SMS and MMS; which boast a 98% open rate.  Once they sign-up, they'll receive a text with a bar-code for the $2 off Med or LG Smoothie that can be scanned at the POS.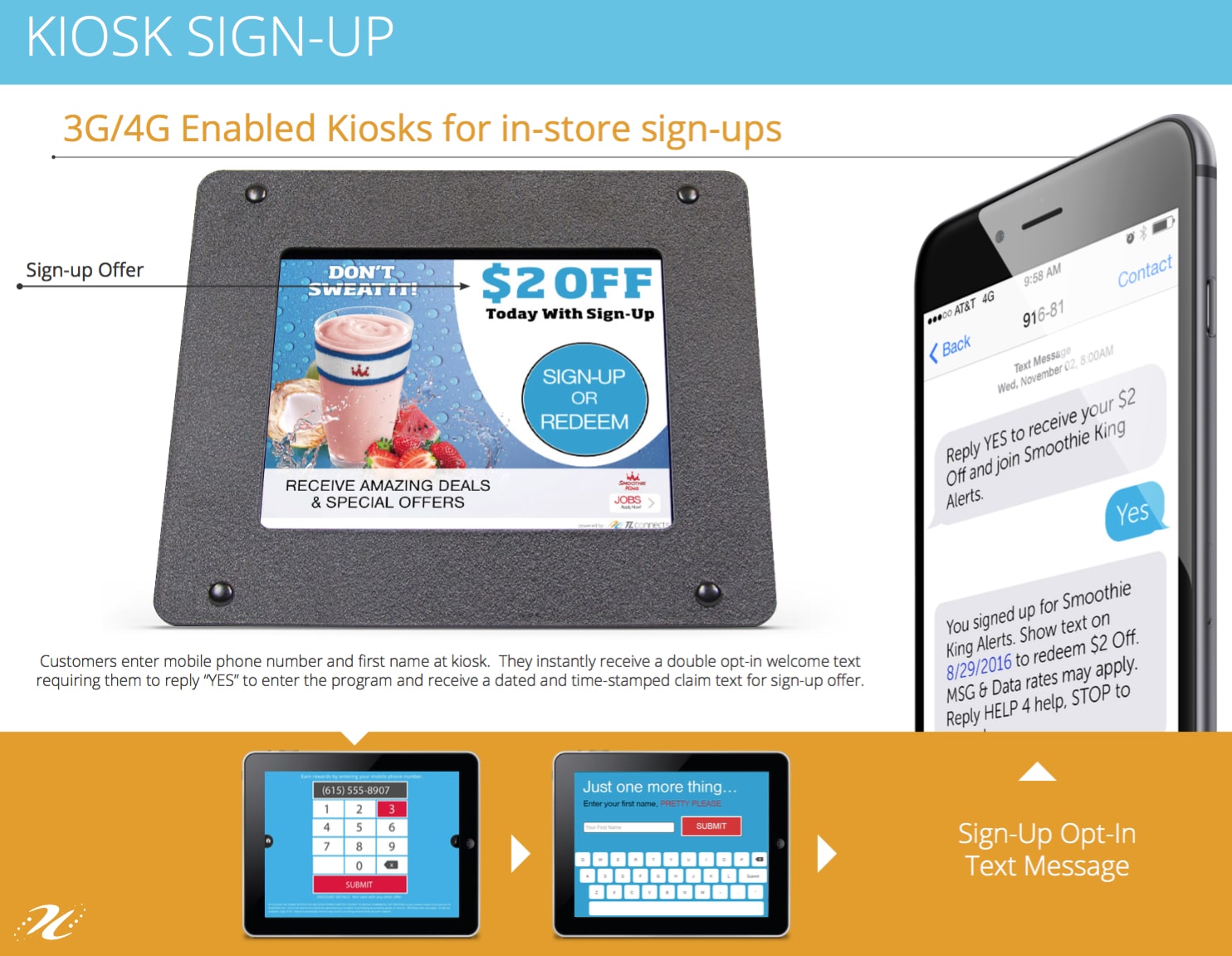 Once you start building your subscriber list, you'll then be able to communicate specific offers via SMS & MMS that are trackable.  The way we track them is by notifying the customer to redeem the offer at the kiosk. Once they click redeem at the kiosk, they will receive a claim text with a bar-code for your employees to scan. We know you're busy, so we've even set-up drip campaigns that allow you to map out automatic offers to engage your customers exactly how you want to.  Whether you want to start a birthday club, capture their e-mail address, or motivate your customers to engage your social media platforms, our automated platform can do it. If you have an interest in learning more about how our platform can help your store, please
CLICK HERE
to reserve a time with one of our reps to see a brief demo or visit the
Smoothie King Text Program
page for more information. You can also call us at 615-255-3199 or 
CLICK HERE
to reserve 15 minutes on our schedule for a quick phone call with one of our reps.